在有机催化领域,(硫)脲有机催化指利用脲或硫脲来加快有机反应速率或控制立体化学。与经典的催化方法不同,这种催化方法的利用的是底物和(硫)脲之间形成的氢键作用(可以认为发生"部分质子化")。(硫)脲有机催化的应用包括立体选择性应用与非立体选择性应用1
历史
Kelly、Etter、Jorgensen、Hine、Curran、Göbel和De Mendoza(参见下文引用的参考文献)在非金属小分子氢键催化领域作出了开创性贡献。Peter R. Schreiner及其同事确定并引入了缺电子的硫脲衍生物作为氢键有机催化剂。Schreiner的选择的硫脲为N,N'-二[3,5-二(三氟甲基)苯基]硫脲,这种催化剂结合了双氢键介导的有机催化剂的所有结构特征:
缺电子
具有刚性结构
苯环的3,4 和/或 5 位上具有非配位吸电子取代基
3,5-二(三氟甲基)苯基是优选的取代基
催化剂-底物相互作用
硫脲衍生物和羰基底物之间形成了两个氢键。(硫)脲中共面的两个氨基取代基是氢键的给体。2 3 4 5 方酰胺利用双氢键进行催化的性能通常优于硫脲。 6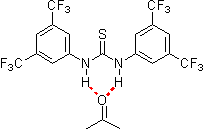 Schreiner使用的N,N'-双[3,5-双(三氟甲基)苯基硫脲形成的酮络合物,具有明显的双氢键螯合的特征 4 7
硫脲有机催化剂的优点
(硫)脲是符合绿色化学理念要求的催化剂,在应用中具有以下优势:
由于氢键的结合焓相对较低,因此(硫)脲催化剂的活性通常不会被产物抑制,但是可以特异性识别底物
催化剂用量低(可以低至0.001 mol%)3
高TOF (周转频率)值(高达 5,700 h-1 ) 3
可以由(手性)伯胺与异硫氰酸酯反应合成,较为简单、廉价
性质较稳定,易于处理,不需要惰性气体氛围保护
可以固定在固相聚合物上,便于催化剂回收与重复使用3
可以在中性、温和条件下进行催化(pKa(硫脲) = 21.0, DMSO)8,可兼容对酸敏感的底物
不含金属,与传统含金属的路易斯酸催化剂相比毒性更小
耐水,甚至在水溶液体系中仍然具有催化能力9
底物
可接受氢键的底物包括羰基化合物、亚胺、硝基烯烃。 Diels-Alder反应也可以受(硫)脲催化。
催化剂
已开发出多种单功能和双功能的手性双氢键(硫)脲有机催化剂,以催各种可以用于合成的有机反应。
| | | |
| --- | --- | --- |
| 1998: Jacobsen将手性席夫碱硫脲衍生物(结合在聚合物上)用于不对称Strecker反应10 11 | 2003: Takemoto将双官能手性硫脲衍生物用于不对称Michael反应和Aza-Henry反应的催化 12 | 2004: Nagasawa利用手性双硫脲有机催化剂催化不对称贝利斯-希尔曼反应 13 |
| | | |
| --- | --- | --- |
| 2005: Nagasawa利用双功能硫脲官能化的胍不对称催化亨利反应14 | 2005: Ricci利用带有额外羟基的手性硫脲衍生物,催化吲哚与硝基烯烃发生有对映选择性的傅克烷基化15 | 2005: Wei Wang利用双官能联萘硫脲衍生物,不对称催化Morita-Baylis-Hillman反应16 |
| | | |
| --- | --- | --- |
| 2005: Soos、Connon和Dobson利用双官能硫脲官能化的金鸡纳生物碱催化硝基烷不对称地与查尔酮 17 以及丙二酸酯加成18 | 2006: Yong Tang利用手性双官能吡咯烷硫脲催化环己酮对硝基烯烃的对映选择性迈克尔加成19 | 2006: Takemoto使用PEG结合的手性硫脲,不对称催化反式-β-硝基苯乙烯的(串联)迈克尔反应的氮杂-亨利反应。20 |
| | | |
| --- | --- | --- |
| 2007: Kotke/Schreine使用与聚苯乙烯结合的硫脲衍生物,催化醇的四氢吡喃化3 | 2007: Wanka/Schreiner利用手性肽金刚烷硫脲催化Morita-Baylis-Hillman反应21 | 2007: Takemoto利用螯合的双官能羟基硫脲催化喹啉的对映选择性Petasis型反应22 |

2007: Ma Jun-An基于糖的手性双官能伯胺和叔胺硫脲催化剂23 24
拓展阅读
Christian M. Kleiner, Peter R. Schreiner. Hydrophobic amplification of noncovalent organocatalysis. Chem. Commun. 2006: 4315–4017.
Z. Zhang and P. R. Schreiner. Thiourea-Catalyzed Transfer Hydrogenation of Aldimines. Synlett. 2007, 2007 (9): 1455–1457. doi:10.1055/s-2007-980349.
Wanka, Lukas; Chiara Cabrele; Maksims Vanejews; Peter R. Schreiner. γ-Aminoadamantanecarboxylic Acids Through Direct C–H Bond Amidations. European Journal of Organic Chemistry. 2007, 2007 (9): 1474–1490. ISSN 1434-193X. doi:10.1002/ejoc.200600975.
参考文献
本文采用CC-BY-SA-4.0协议发布,来自我创建的Wikipedia条目硫脲有机催化,由于个人水平限制,本条目难免会有知识谬误以及描述不清等情况,欢迎读者在维基条目中编辑修改或对本网站在GitHub上的源代码提供Pull request,也欢迎在评论区多多指教。